The Original Desktop Dumpster
Dumpsty is a miniature dumpster made for your desktop. From the side fork pockets to the tiny molded text on the rubber lids, everything has been meticulously recreated down to the last detail. Measuring a broad eleven inches across (the perfect size for magazines), and handmade from steel, they're authentic recreations of their full-sized counterparts. 
Dumpsty is tough and ready for anything you want to throw at it… on it… or in it. Use it for holding anything from papers at work, magazines at home, to tools on your workbench. Dumpsty is fun, functional, and distinctly unique. Keep yours factory fresh or stick it to the man with your own tags and artwork!
Dumpsty is available in Raw Steel, Fresh Painted colors, artists Wrapped Editions, and special Limited Edition colors. We can even customize Dumpsty in your choice of colors and designs.
View all Dumpsty dumpsters.
Big Love for a Tiny Dumpster
I recently ordered a Dumpsty dumpster and I received it and I LOOOOVVEE my dumpster!  I just wanted to call and tell everybody there who participated in making my bitchin' dumpster bitchin'! Thank you! I love it! Everybody's envious and I'd do it all over again. And I'm going to Yelp it too, okay? You deserve it. Bonus. Raise. Vacation. I love it!
Big Love for a Tiny Dumpster
Immediately became my favorite thing! I know I am a bit daft, but my Dumpster is brilliant! It makes me happy and I think it is totally worth it – I swear. I will probably end up requesting that my ashes go in it when I keel over. It is definitely made to outlast me, which is one of the great things about it. Nothing cheap or shoddy in its construction.
Big Love for a Tiny Dumpster
I love this useless high-quality dumpster! Awesome little dumpster! Not too useful, but very high-quality product in a world of very cheaply made products. I have a weird appreciation/obsession for well-made products, and this is definitely one of those products. Consider it like art – it's not too useful, but a very cool piece to have. I love this thing!
Big Love for a Tiny Dumpster
THE DUMPSTER THAT YOU DIDNT KNOW YOU NEEDED! VIVA the Dumpsty!!!! It's everything I hoped it would be, and more! It's incredibly well built, and the details are perfect. I added some rust to mine before it gets the full graffiti treatment! I just ordered a second one believe it or not!!!
Big Love for a Tiny Dumpster
So unique and well built, even my wife likes it! This bad boy is awesome! The ultimate! Add a couple of electric candles and you will have your own personal dumpster fire.
Big Love for a Tiny Dumpster
As a southwest city boy who has ended up in the rural Midwest, one of the things I never thought I'd miss about the city was… the sight of a dumpster. But, no joke, just looking at this thing on my desk puts a smile on my face and reminds me of the good times and bad times spent in urban apartment complexes.
Big Love for a Tiny Dumpster
This mini dumpster is the OPPOSITE of trash! My dad came over today and I had my new Dumpsty sitting on my coffee table. He immediately saw it and said, "That is so cool!" That is high praise from a man I respect more than any other. There is something undeniably satisfying about having a high quality, well-built miniature version of something that anyone can recognize immediately. This product has no real reason to exist other than satisfying our innate fondness towards novelty. But I bought one anyway and I do not regret it one bit. From the moment I felt the weight of the package it came in, I knew that this was a solid purchase. It is a well-crafted, thoughtfully constructed piece of art. If you are on the fence about whether or not you should invest the money in one (which I admit is a substantial sum for such an object) let me be the first to say, "Go for it". And for the record, I am in no way affiliated or paid by whoever makes these things. I just think this is a neat product and I wish more things like it existed.
Big Love for a Tiny Dumpster
Who'da thunk a dumpster could be this awesome. Absolutely love this thing. 10+ on the cool factor meter. Beautifully crafted down to the smallest detail. I put it on my desk today and everyone that walked in my office immediately noticed and made comments about how cool it was. If u like this kind of thing and ur debating spending the money, just do it. You won't regret it. Great product with great customer service. The only thing I wish is that it was an inch or so wider so I could fit my tabbed file folders in landscape orientation.
Big Love for a Tiny Dumpster
Awesome product! Very well built. Solid like the real deal minus the trash. Very cool to have in your room and store stuff. Should definitely check out their website if you are interested.
Big Love for a Tiny Dumpster
One serious dumpster! This is built HEAVY DUTY! You could actually ride this thing down a hill! Indestructible and love the magnet signs!!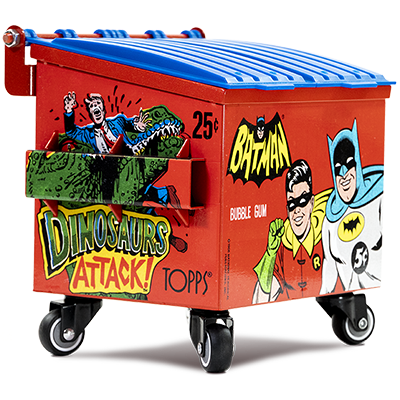 Dumpsty Wrapped Editions
Our best Dumpsty artists have come up with unique designs that have been turned into vinyl wraps. Each Dumpsty Wrapped Edition is a work of art and limited to 100 pieces. The perfect complement to any home or desktop.
View Dumpsty Wrapped Editions.
Dumpsty Artist Editions are unique hand-painted original works of art and sell as quickly as we receive them. Previously sold pieces live on in our gallery.
Dumpsty Limited Editions
What do you get when you paint Dumpsty with three layers of high-gloss, metal flake car paint? A series of limited edition Dumpsty dumpsters in three outrageous colors. Each Limited Edition Dumpsty comes with a matching painted hinge rod, a set of miniature warning sign magnets, and a pair of black lids.
View Dumpsty Limited Editions.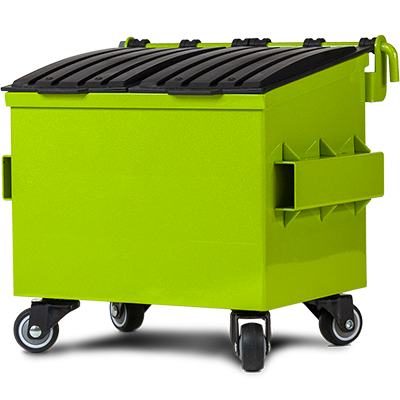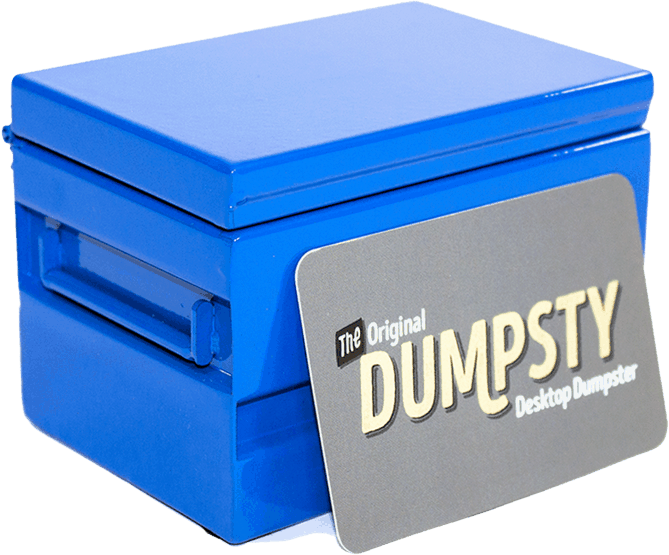 Mini Box Business Card Holder
Our smallest Dumpsty yet. The Dumpsty Mini Box business card holder measures 4 inches across – the perfect size for all formats of business cards. Made from the same steel as all of our Dumpsty products and powder-coated in blue or tan paint.
View Mini Box.