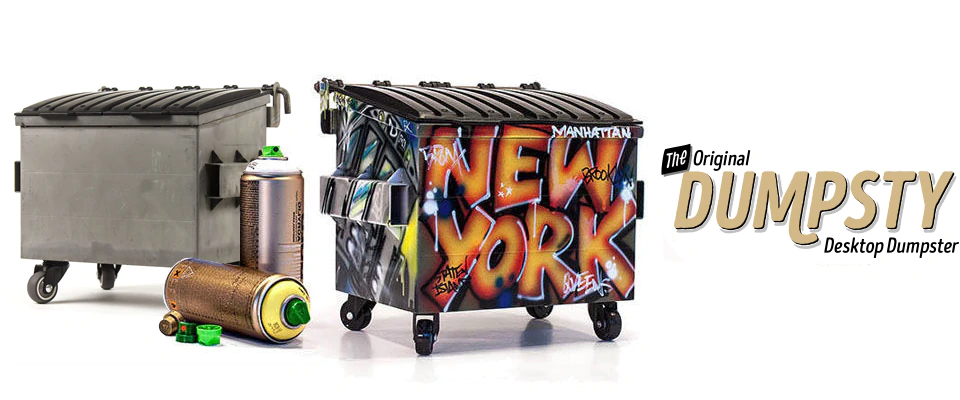 About Dumpsty
An appreciation of scale models and pop culture led to the creation of the first Dumpsty desktop dumpster. Dumpsty's iconic urban design quickly became a hit with artists everywhere who transformed them into completely unique works of art – some of which are sold on our website. Now Dumpsty can be seen anywhere, from holding papers on a desktop, tools on a workbench, or magazines at home. Dumpsty is fun, functional, and distinctly unique!
Order Information
We accept PayPal and major credit cards through the PayPal service. Orders are generally processed and shipped within one business day of receipt. Please allow 2-4 weeks for delivery of special order items. We use UPS for domestic and international shipping. You may request a different carrier by contacting us. Standard shipping within the USA takes 2-5 business days. International orders may take 5-7 business days.
Satisfaction Guarantee
Dumpsty is super well made and ridiculously cool, but if for some reason you aren't completely happy with your purchase, contact us to arrange a return and full refund of the purchase price. Products must be returned within 30 days of purchase in its original packaging and condition, and you are responsible for return shipping costs and insurance. But seriously, you're going to like it.
We're Social
Check out our feed on Instagram. That's where we highlight new products, special sales, and photos from our customers.
Get in Touch
Drop us a line using the handy form below or email info@dumpsty.com. You can also reach us by phone Monday through Friday from 9:00 am to 5:00 pm Eastern Standard Time at (407) 833-0600.