The Original Desktop Dumpster
Dumpsty desktop dumpsters are ready for anything you want to throw at them… in them… or on them. Measuring a broad eleven inches across (the perfect size for magazines), and handmade from steel, they're authentic recreations of their full-sized counterparts. Dumpsty dumpsters are available in galvanized Raw Steel, Fresh glossy blue or green paint, special Limited Edition colors, and out-of-sight artist Wrapped Editions. We can even design them to order.
Dumpsty combines gritty realism, solid metal construction, and incredible attention to detail. From the fork pockets to the tiny molded text on the rubber lids and warning signage; everything has been meticulously recreated down to the last detail.
At eleven inches wide and ten inches tall, Dumpsty is just the right size for your desktop, workbench, or table.
See full measurements here.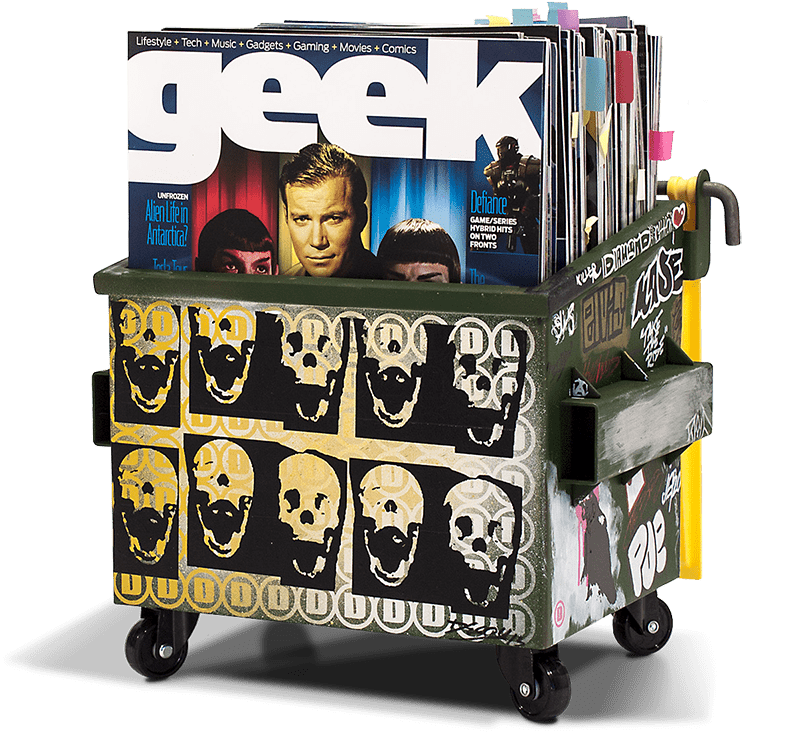 Functional Design
Measuring a broad eleven inches across and ten inches tall, Dumpsty is the perfect size for magazines, studio supplies, tools, and personal treasures.
Dual Hinged Lids
Independent rubber lids are available in assorted colors and held in place by the same rugged dog-ear hinge design found in full-sized dumpsters.
Interchangeable Casters
Custom casters designed for Dumpsty use a double bearing design and super-soft polyurethane wheels for ultra-smooth motion.
Tough Metal Construction
Dumpsty is solid – made by hand using heavy-duty recycled steel. Dumpsty can take whatever you throw at it, in it, or on it – and look all the better for it.
CUSTOMIZED DUMPSTY DUMPSTERS
Tired of the same old mugs and t-shirts? Give them something they'll never throw away and always remember. Dumpsty desktop dumpsters are fun, functional, and one of a kind.
We can powder-coat your Dumpsty in any color and lids come in blue, green, purple, yellow, and black. For the finishing touch we can add your logo to the front of Dumpsty as large as 8×5 inches in size. Choose permanent stickers or super-thin magnets. If you need assistance with your artwork, we have a full-service creative department ready to help.
Contact us for more information on custom Dumpsty dumpsters.